The Year of Living Dangerously
sets in the Sukarno-era
Indonesia
when communism caused ruptures in Indonesian political situation. The movie features Mel Gibson playing as an Australian journalist, Guy Hamilton, who is assigned to
Indonesia
. He is sent to
Indonesia
without proper preparation from his office. He literally starts from zero in the country. Foreign correspondent group in
Jakarta
also does not really welcome
Hamilton
.
At first,
Hamilton
finds it hard to report news happening in
Indonesia
. He cannot nail any essential interviews and can only report boring stories. However, after befriending with a half-Chinese dwarf photographer Billy Kwan (played by Linda Hunt),
Hamilton
can make some notable headlines. Kwan has a wide range of sources, from crooks to generals. As
Hamilton
's name raise into prominence, he becomes widely known and being accepted by the foreign correspondent group in
Indonesia
. Kwan then introduces
Hamilton
to Jill Byrant, a British Embassy's officer played by Sigourney Weaver, with whom
Hamilton
falls in love.
As the movie rolls, intern problems among
Hamilton
, Byrant and Kwan emerge as the Indonesian political and social condition worsens because Chinese Communist party provides Indonesian Communism Party (PKI) with arms to overthrow Sukarno. Then, each of Hamilton, Byrant and Kwan must make hard decision in response to the complicating situation among them.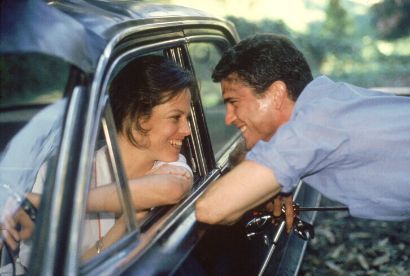 Guy Hamilton (Mel Gibson) and Jill Byrant (Sigourney Weaver)
Overall, The Year of Living Dangerously provides its viewers, specifically journalist, with some basics of being foreign correspondents. It shows journalists the importance of networks and connections with locals (authorities or just laymen) as well as other foreign correspondence to smoothen their journalism duty.
However, the movie is overshadowed by the love story of Hamilton and Byrant. Their romance dominates the story so that it diminishes the importance of other crucial movie element like the setting of time. The romance becomes the spectacle in the movie. It fails audience's expectation who seek to better understand about Indonesian history in the 1960s.
Billy Kwan (Linda Hunt)
Even so, the movie deserves to receive recognition because it shows us a brilliant acting of Linda Hunt who acts as a half-Chinese dwarf male photographer, Billy Kwan. Her acting is so soulful that audience can feel her empathy when watching Indonesian's poverty and frustration to Sukarno. Therefore, it is no wonder that she won an Oscar for her role in the movie.
The Year of Living Dangerously
is probably not the best movie if one wants to extensively understand
Indonesia
in the 1960s. Yet, it still provides audience with a unique view on
Indonesia
as seen from
Hollywood
's spectacle. It is also probably not the best medium to wholly understand the essence of being foreign correspondents. But, it does show what foreign correspondents will face in a turbulent country.