App-based motorcycle taxi, known as ojek, in Jakarta is the capital's newest sensation. When you hit the road, you will find it extremely easy to see motorists donning green helmet which displays
Gojek
or
Grabbike
logo on it. They boast that they have thousands of drivers in the capital.
Gojek and Grabbike are two smartphone applications that enable users to order ojek with a rational price. They break away from the conventional ojek which usually charge irrational fare. They calculate fare based on distance through google map.
For instance, I once tried to take an ojek from my office building to a train station which is only 5 km away. If I took a taxi, it would cost me around Rp 40 thousand. However, it was a Friday evening, meaning that only miracle could help me get a taxi in Sudirman area, the main business district in the capital. After waiting for an empty cab for more than an hour, I gave up.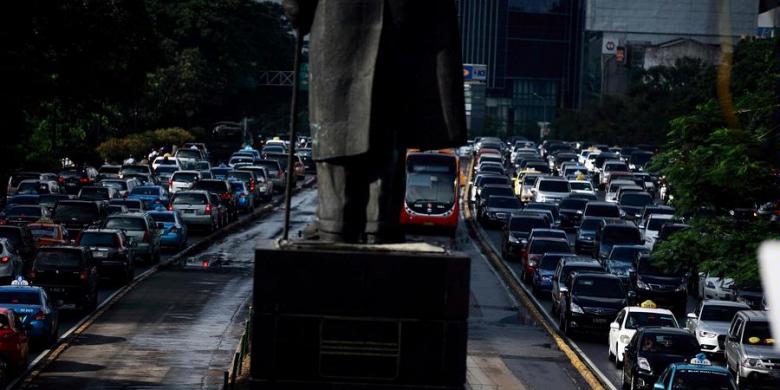 The notorious 'Macet' in Sudirman Area during peak hours
credit: Kompas.com
Then, I decided to take an ojek to take me to the station since my train was about to leave in an hour. I approached one driver, who he told me that the fare was Rp 50 thousand. I then tried to find 4 other ojek drivers only to be offered with similar range of fare. I finally agreed with Rp 45 thousand since I got no other choice.
The ojek drivers cited he charged me with Rp 45 thousand because the route was far; they should navigate through the congestion; and many other irrational reasons. I did not buy their reasons because I am a motorbike rider myself. I know what 'far' is and I think 5 km is not that 'far.'
If only I used ­app-based ojek, I mostly would spend less than Rp 25 thousand for that travel. Gojek, for instance, charges its passengers with Rp 25 thousand for minimum use of 6 km. If there is a promo, I probably will only spend Rp 5 thousand!
Rational price, transparent fare calculation and reliability. These are probably the reasons why app-based ojek is so popular in Jakarta for the last two months. Both Gojek and Grabbike (downloaded as GrabTaxi) have been downloaded by more than 1 million people in Play Store.
The popularity of app-based ojek shows that Jakartans actually really need public transportation that they can rely on. I sometimes find it exhausting to ride my motorbike, navigating through the crazy city traffic all the time. That is why, I have been using these app-based ojek for some times now and I find them extremely helpful. All I need to do is open my phone, wait patiently, and just hop on the bike.
Inside a crowded Transjakarta
Credit: unclegoop.com
True, the Jakarta city administration has been developing other means of public transportation. The city favorite Transjakarta bus is one of them. With only Rp 3,500, you are able to commute all across the city. However, the bus is oftentimes not reliable. The headway is still very long. Sometimes, you have to wait for an hour for a bus to show up. In peak hours, the bus become extremely crowded and inconvenient to ride. Either being squeezed in the bus or going home late at night, your call.
The other means of transportation is the city train system Commuter Line. Similar to its cousin, Transjakarta, Commuter Line is also a favorite since we can travel to the outskirts of Jakarta and its satellite cities with low price. Also, it is free of macet! However, as its cousin, riding in a Commuter Line train at peak hours is like being a fish in a can i.e. you barely can stand.
Other than Transjakarta bus and Commuter Line trains is crappy city buses, which have roamed the city traffic since the 80s, probably. The buses are old and poorly maintained. And, you need to pay more cautions since pickpockets love to ride such buses as well. While it is true that some bus operators start to rejuvenate their fleet, but the number of the new buses are still very limited.
Enough said. The city lacks proper public transportation. Thus, when app-based ojek is launched, it suddenly becomes popular because Jakartans consider such ojek as the alternative for proper public transportation in the city.
Inside the legendary PPD 213bus (by Rizqi Arifuddin)


However, people should also realize that these app-based ojek is not the solution to the city problem. Even though I really love these ojek, I still firmly believe that mass public transportation is still the answer to solve the worsening traffic in Jakarta. Motorcycle is not a form of public transportation as it only accommodates two people.
As the graphic above shows you, train is the answer for Jakarta's traffic as it can accommodate thousands of people into one set of train. Ojek meanwhile can only accommodate one passenger. Imagine how many ojek the city will need if more and more people use gojek and grabbike. In fact, Jakarta streets already house thousands, if not millions, of motorcycles every day. Thus, I highly expect that the Mass Rapid Transit (MRT) train that the city administration is developing will not fail us. It may be the answer to solve the city's worsening congestion.
Until that day comes, gojek and grabbike may become the alternative way of commuting in Jakarta, at least for me.